Webex Teams and Webex BOARD
With Webex teams and Webex Board, rediscover uncompromising simplicity with the power and versatility of cloud collaboration solutions.
Webex Teams
Adopt a fully secure telecommunication solution to optimize collaboration. WEBEX TEAMS combines conference, messaging and corporate telephony functions. This cloud-based collaboration solution allows your team members to converge to a single platform to communicate and share files.
Enterprise messaging for everyone, from anywhere, on any device.
Stay on the lookout with persistent content, team-based team email sessions and virtual meeting rooms with WEBEX TEAMS .
Unlimited messaging – messages between two people or between teams.
With the WEBEX TEAMS collaboration solution, communicate the way you want – short message or videoconferencing – and move from one to the other, depending on your needs.
In-depth meeting experiences for everyone, from anywhere, on any device
All employees are on the same wavelength thanks to the joint meeting experience offered by the WEBEX TEAMS collaboration solution.
Meet your colleagues across the company, as well as your clients and partners.
With WEBEX TEAMS , gather with colleagues in virtual or physical rooms and join meetings from any device.
HD video and audio service for everyone, from anywhere, on any device
Boost the productivity of your employees through the call feature, from any device, anywhere, with anyone.
Increase the functionality of your desk phone and mobile phone.
Transparent conversations between your mobile phone and desk phone.
An unprecedented experience including common contact, content and calendar services.
Tailored to meet today's business requirements, see how NEOPOS with WEBEX TEAMS collaboration solution can empower your business!
Webex Board
Discover the ultimate tool for your meeting rooms: WEBEX BOARD! This 55- or 70-inch wireless presentation screen serves as an HD video conferencing system and integrates WEBEX TEAMS and WEBEX BOARD collaboration tools, such as the digital whiteboard.
Ideal for your team brainstorming sessions, this technological gem is WEBEX BOARD, making it easy to harness the power of your collaboration solutions in real time.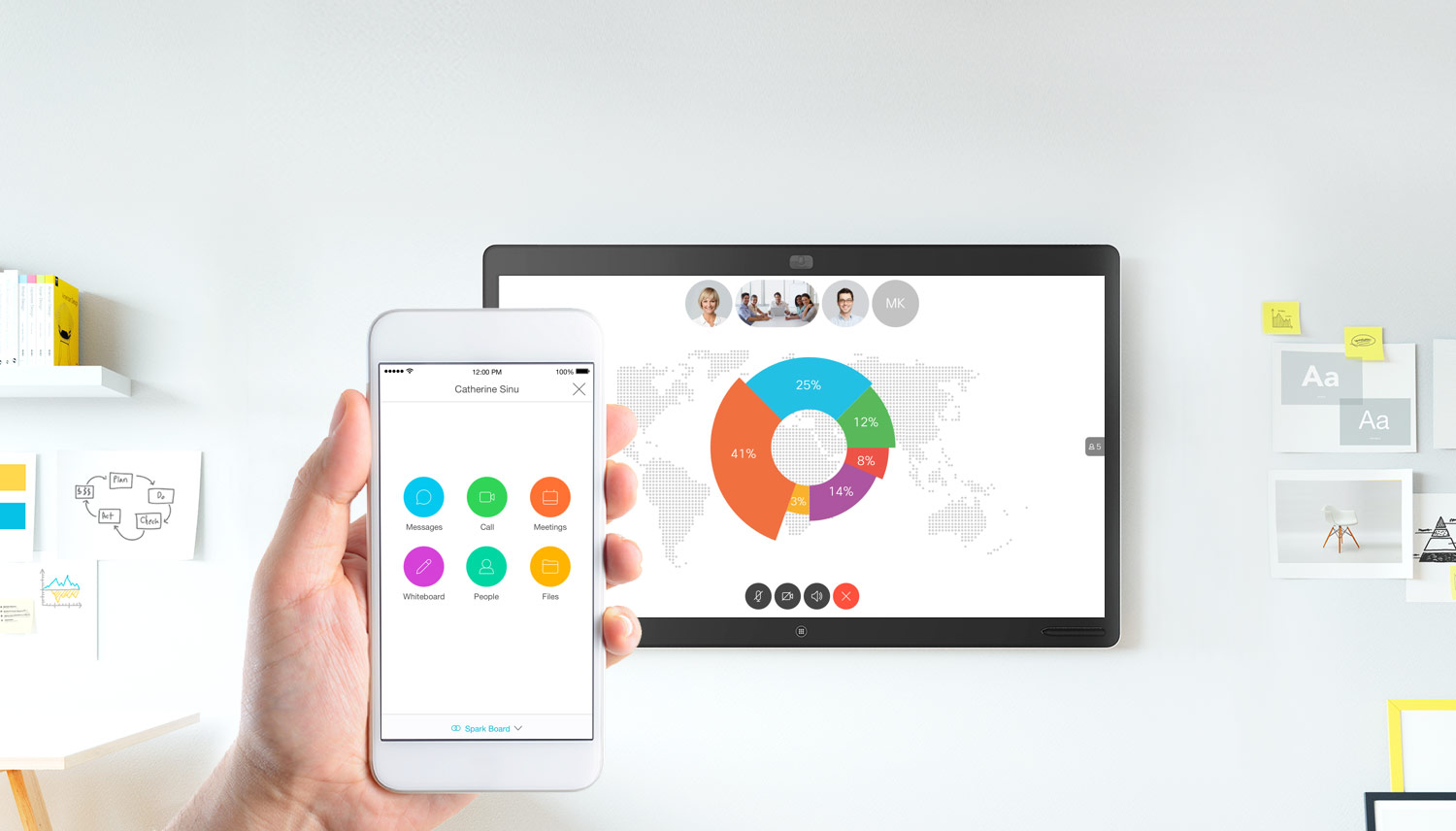 We offer flexible solutions
Contact one of our technology advisors to learn more about our collaboration and contact center technologies for IP telephony environment solutions.